Liverpool Legends – The Complete Beatles Experience!
 Who is ready to Rock & Roll?
The Liverpool Legends are coming back to Farmington this weekend! Saturday, October 7th at 7:00pm, they will take the stage at the Farmington Civic Center! Tickets are still selling. They are $19.50 and are available by calling the Civic Center at 573-756-0900 or by purchasing online at https://square.link/u/HEn2FVBE.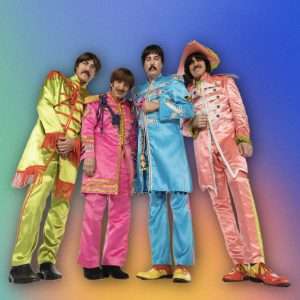 This show brings the Beatles and their long career to live. Spectacular music, Vintage instruments, powerful lighting, and of course the 4 members. These four lads were hand-picked by Louise Harrison, sister of the late George Harrison of the Beatles. She proudly expressed, "Liverpool Legends are the very best four guys to portray the Beatles since the only four guys to play the Beatles were John, Paul, George, and Ringo!" Top television and film producer Jerry Bruckheimer (CSI, Pirates of The Caribbean, National Treasure) chose this band over all other Beatles Tribute bands to portray the band that changed the course of music and the world forever. He described them as "Phenomenal in every way… It is pure magic!" Even Paul McCartney raved to Kevin Mantegna, "Hey, that's you! I could spot John out anywhere! You make a great John!"
Not long after the death of her brother, George, Louise Harrison spotted Marty Scott, the band's founder, while performing in Chicago with another Beatles cover band. Marty shares some special "fan-boy" moments on the band's website, liverpoollegends.com. Some highlights include meeting and having a real conversation with Paul McCartney while sitting between him and Louise on a couch. Another is being requested by Tony La Russa to hang out following a Cardinal game at Busch Stadium for which the band had opened. La Russa said, "I'm a huge Beatles fan and it's great to see the Liverpool Legends bring them back to life! Now I'm a Liverpool Legends fan! I highly recommend them!"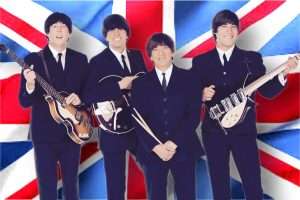 Liverpool Legends has performed for sold out audiences of 20,000 people at Auditorio Nacional in Mexico City, and have performed in India, Israel, Ecuador, Chile and throughout the U.S. A highlight of performing in the U.S. has been to headline at the prestigious Rose Bowl four times with over 160,000 people in attendance. Liverpool Legends also recorded and produced all the Beatles songs for the album, "Fab Fan Memories" which was nominated for a Grammy Award in 2012.
This performance will provide the full package! David Tanner (as Paul McCartney), Marty Scott (as George Harrison), Kevin Mantegna (as John Lennon), and Greg George (as Ringo Starr) have spent decades not only perfecting the sound and image of the Beatles, they have created a transporting show. You will feel like you stepped back in time as Liverpool Legends takes the stage and embodies the sound, the look, the mannerisms of the band of yesterday. Relive, reminisce, or experience for the first time a live Beatles concert!
This group that performed in Farmington in 2021 was highly requested! Well, we listened! If you did not see them the first time, get your tickets now! If you did, then you know it is a show you cannot miss!
For more information contact Tiffany Gallaher, Executive Director, of Mineral Area Council of the Arts at tgallaher@MineralArea.edu or (573) 518-2125. For questions about tickets, call (573) 756-0900.